Seven 'Brilliant' Kitchen Lighting Ideas
Bringing Light and Joy Into the Heart of Every Home
When asked about doing a kitchen remodel, where does your mind instantly go?  Do you dream about sweeping stone countertops, or towering cabinets in highly polished wood?  Perhaps imagining an undermount stainless steel sink, or new hardware in stunning, gleaming metal finishes?  Perhaps – like me – your brain goes into accountant mode: tallying material costs, personal labor, professional contracting, etc.  Most likely, you feel overwhelmed and set adrift because the choices and variety when it comes to kitchen remodelling, updates, and 'modernizing' is practically endless.  Whether you're not necessarily interested in – or aren't particularly capable of – investing a lot of time, money, or design into improving a space, consider doing small updates to reinvigorate and refresh your most commonly used and popular areas instead.  One of the easiest ways to invest your money into making a big change with little effort is through your lighting.  Today, we'll touch on seven beautiful, easy ways to 'spruce up' your normal kitchen space – and make it more inviting, useful, and welcoming as well.
1. Under Cabinet Lighting
It sounds cheesy, and everyone's pushing it – but for good reason!  Just a couple of LED strips can transform a dim and dark space into something bright – and useful.  Direct downlight can be extremely useful in creating a place to cut, mix, dice, scrape – or just do crossword puzzles.
  2. Using Fixtures That Create Interest
Again – something that sounds simple and yet is probably under-used.  A light fixture – especially one that is both functional and serves an aesthetic or architectural purpose – can be a powerful statement, especially when creating an area of visual interest.  Startling fixtures can be both beautiful and useful; kitchen islands or kitchen eating nooks are popular places to use just such attention-getters.
3. Pendants or Pendon'ts?
Don't be afraid of the mighty pendant – not only do they provide a dangling, directional spot to highlight specific surfaces in your kitchen, they are also beautiful.  A good pendant fixture will be low-maintenance, low-heat, and can provide an ambient, heart-warming glow when other lighting features aren't in use.
4. Recessed Lighting
As electricians, our number one installation for homeowners doing remodelling or retrofits is recessed cans.  They are extremely popular both for their flexible ability to host a multitude of light-types (such as incandescent, CFLs, LEDs, etc.) but also because they can be wired to a dimmer and used as mood or ambient lighting.  The use of directional trims mean they can also be directional lights, and used as task or spot-like lights.  Downlighting is the most widely used across the lighting industry, and a well-designed set of can lights can give a wide area of light coverage without being obvious or annoying.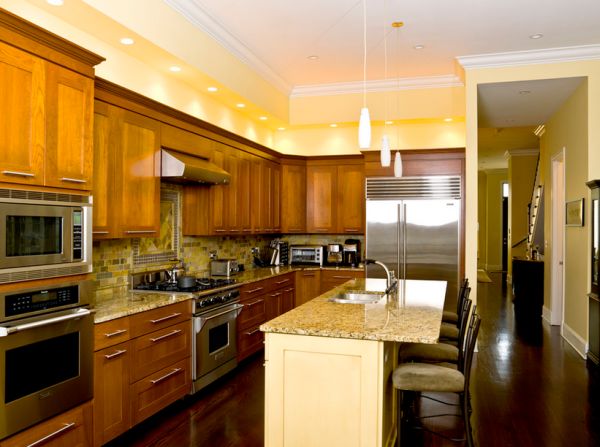 5. Track Lighting
I'll admit it – track lighting has gotten a bit of a bum rap over the years.  However, as a lighting fixture it has evolved and grown – modern track lighting is amazing!  Not only that, but it is beautiful, stylish, and definitely affordable.  Don't let it's name fool you – while it might be an old fashioned idea, this modern system is a far cry from it's ancestors, and improving every day.  The new lights are so small, bright, easily mounted, moved, pointed, and gorgeous looking to boot!  Not only that, but there is no such thing as 'traditional' track lighting – new tracks and LEDs mean you can load almost any kind of light fixture onto your track!
6. Cove Lighting
I know what you're thinking – what on earth is cove lighting?  Cove lighting is anywhere you create a space with no purpose other than to create reflected, diffuse light.  Sometimes this means using a box ceiling, the top of built in cupboards, or the toeboards on your cabinets – but it means taking a space that is normally ignored and making it bright, beautiful, and worthy of notice.  While it's easy to dismiss this as being similar to under cabinet lighting, remember that it performs a completely different task and is more about form than function.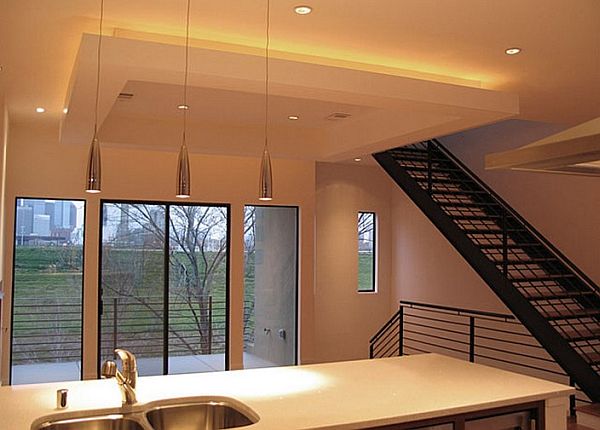 7. Cabinet-Specific Lighting
Last – but nowhere near least – is cabinet-specific lighting.  Whether you opt for translucent cabinet panels with lights installed inside, spotlights for your kitchenware so it is both beautiful and useful, or futuristic spots hovering outside, this is a tiny detail that can make your kitchen utterly delicious.
And if you don't believe the something as small and as simple as changing out your lighting fixtures can make such a huge impact in your kitchen, check out these before and after pictures:
If you have your own success story to share – or a question to ask about lighting remodelling – don't hesitate to drop us a comment below!
Swartz Electric – Your Colorado Springs Electrician performs electrical work throughout Colorado Springs, Monument, Black Forest, Fountain, Falcon, Woodland Park, and everywhere in between. We are the electricians in Colorado Springs to solve your electrical problems and meet your electrical requirements.
Call, e-mail, visit our website, or stop by our office today, and allow Swartz Electric to serve YOU.
This is an original article written by Mai Bjorklund for Swartz Electric. This article may not be copied whole or in part without the express permission of Swartz Electric, LLC.
© Copyright 2015. All rights reserved