Frequent Winter Service Calls
Customers Most Common Seasonal Service Calls: Winter
One thing I have learned through my time here at Swartz Electric is that each season brings with it different electrical concerns.  Our customers experience different kinds of problems throughout the years, but in the winter we usually face a couple of 'common' seasonal issues.
Heaters
Our number one offender – hands down – of troubleshooting, repair, or service calls during the winter is inevitably heaters.  It doesn't seem to matter if they are radiant floor heaters, electric radiant wall heaters, or even the commonly used space heater – they all just seem to be the perfect troublemaker during winter.  Of course the tile heat tape in your bathroom,  or the power to your furnace will go out, when cold weather hits.  Unfortunately, indoor air quality and comfort is so necessary that we end up fielding emergency calls when warmth becomes scarce.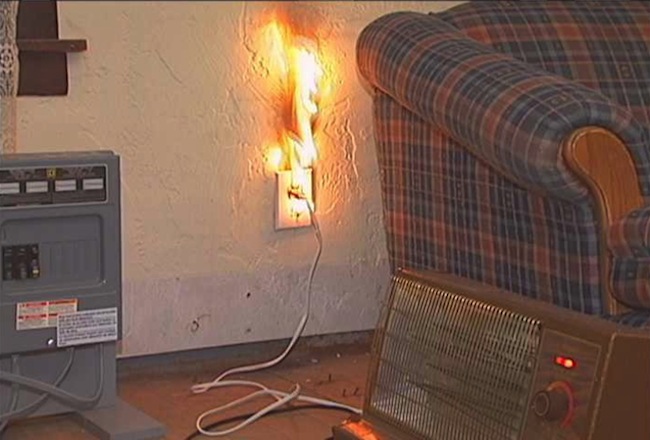 Sometimes, electrical problems do happen because a customer overloads a circuit – maybe by putting a heater, a computer, a tv, and a light fixture on the same circuit; this is almost always unintentional.  It is really scary when the breaker trips, or you smell the wire overheating – but keep in mind that most space heaters draw almost as much power as a single circuit can provide and usually doesn't leave enough room to power other items.  We have had panicked customers call for service, desperate for advice or information, and when the service electrician gets to their home we discover they had this raging little 'toaster' of a space heater plugged in to the same circuit that went pop.  For more information, see Space Heaters or Space Haters.
Lighting Circuits & Fixtures
With winter days being so short and the dark lasting so long, winter is the time of year when we notice – or are irritated by – the light fixture with a bad flicker, the porch light that stopped working, or the switch that doesn't seem to power the overhead lights.  While it is super easy to call out an electrician to resolve these kinds of electrical issues, it is also good to follow some basic troubleshooting steps on your own.  Frequent reasons light fixtures cease working for our customers are:
The number one reason a fixture doesn't work:  It's bulb is out or its ballast is bad (in the case of fluorescent overheads).
The number two reason:  The switch on the wall next to your light is not the one that controls that fixture.  Trust me – this happens all the time!
Our third most frequent finding: A light fixture that isn't working is actually part of a circuit with a GFCI (Ground Fault Circuit Interrupter) or AFCI (Arc Fault Circuit Interrupter) that has tripped – or is on a breaker that has tripped in your breaker box.  The worst part of this is that finding and resetting interrupter receptacles or breakers can be extremely difficult.  These 'special' protective devices are almost always located in awkward, unusual, and even inaccessible places – or outdoors, where you would never think to look.
If you have further questions or concerns about troubleshooting your light fixtures, check out these relevant articles:
How to Troubleshoot an Electrical Light Fixture
Troubleshooting Fluorescent Lights
If you are ever in doubt – or in need of professional services – please don't hesitate to call Swartz Electric – YOUR Colorado Springs Electrician.  Helping our customers is what we live for, and the beginning of five star service is figuring out where things went wrong – so that we can make them go right!
Swartz Electric – Your Colorado Springs Electrician performs electrical work throughout Colorado Springs, Monument, Black Forest, Fountain, Falcon, Woodland Park, and everywhere in between. We are the electricians in Colorado Springs to solve your electrical problems and meet your electrical requirements.
Call, e-mail, visit our website, or stop by our office today, and allow Swartz Electric to serve YOU.
This is an original article written by Mai Bjorklund for Swartz Electric. This article may not be copied whole or in part without the express permission of Swartz Electric, LLC.
© Copyright 2016. All rights reserved.