The Ultimate Guide to Multimeters
I have been pursuing the desire to write a guide – a definitive, laymans, anyone-can-read-it, easy to read, easier to use guide – on multimeters.  What are they?  How do you use them?  What, exactly, are they good for?  On my journey, I wound up with some 25+ bookmarks in a little folder I keep titled 'Blog Bookmarks' that were all about using multimeters.  Some of it was video, or blog posts, or even hub/squidoo pages.  Then I realized – the competition is really (and I mean REALLY) stiff on this subject!  How am I supposed to creatively engineer something that is going to blow all these guys out of the water when I don't have the time or ability to really compete successfully?
Well, duh – I'm not going to.  Instead, I am going to share the resources I gathered with you!  This means that you can use this as a comprehensive guide to finding information on using, understanding, reading, and ultimately purchasing your ideal multimeter.  This actually was a difficult task because there are literally a million and one pages out there about multimeters, and I am determined to bring you the best of the best.  If you have suggestions or links for your own page, blog, video, etc. about multimeters then drop them in the comments and I will definitely make sure they get added to the list of of very important stuff to have!
To begin with, we should learn A) what a multimeter is, and B) why it is important.  For this task, I turn to a lovely definition of a multimeter from Wisegeek.  (Author's note: I love quoting definitions.  Hence, you get to enjoy reading them.)
Not only do we consider what is a multimeter, but also what kind of multimeter are we dealing with?  Does it have a dial and a needle?  Is it an analog multimeter?
Does it have an LCD display?  Is it a digital multimeter?
http://en.wikipedia.org/wiki/Multimeter#Digital
(For fun-reading, check out Analog/Digital – What's the difference?  Also, this fun article about which kind of multimeter you might need or want.)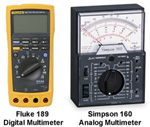 Last – but never least – is: what purpose does a multimeter fill and why on earth would anyone ever need one?
In case you aren't doing your reading, allow me to sum up – multimeters are the beginning and end of diagnostic tools for engineers and electricians.  They can be used to tell if a circuit, wire, switch, electronic or component is functioning, how much power it is capable of drawing, and if it's been broken or shorted.  They can tell you if an electrical item might be drawing too much power – or not enough.
But – what does that mean?  How do we use that information?
A Super Short Video on Using A Digital Multimeter  Short, sweet, and to the point.
This Tutorial is Brief – and thorough.
A Student's Guide to Using A Multimeter  in handy PDF format.
A Brief College Student's Guide to A Multimeter
A Handy Tutorial to Using a Multimeter
A Handyman's Guide to Using a Multimeter
This Multimeter Tutorial Has A Fancy PDF 
Long Winded Tutorial With Tons of Detail
This Blog Offering Has A Great Video 
This Hubpage is My Favorite for covering meters, settings, readings, and circuits in simple layman's terms combined with great graphics and easy-to-read instructions.
Watch someone intentionally show you how things can go wrong with a multimeter
A half hour long walk-through on using a multimeter
This video is a very, VERY long discussion on choosing the right multimeter.  It also has an Australian who may or may not be work appropriate, and may or may not blow up things in his other videos…  (I promise nor guarantee nothing.)
While I was in school, we were totally spoiled with pouches full of Fluke's – high quality multimeters, true RMS meters, thermal cameras (combined with FLIR), and other bright yellow pretty tools.  This was fine for technical college students – but as individual consumers we probably don't want to buy an endless array of expensive meters.  Instead, we want affordable options that are effective and work when we need them.  But, how will you know which meter is right for you?
I suppose the answer is the same as it could be in any other instance: there's the great, the good, and the cheap.  Necessity and budget will most likely dictate what kind of a multimeter you buy yourself.  There are tons of 'experts' offering their opinions – and I'm not one, so I won't.  I will point out some of the great choices available on the infinite interwebs, however:
The Amazingly Awesome Meter per The Comparing Guru
A Solid, Affordable & Reliable Meter per over 1100 Amazon Customer Reviews
El Cheapo-Cheapo via Harbor Freight
Extra!
The Future of Multimeters – It's Mobile, Pocket-Sized, and Powerful!
'The Multimeter is about to grow up.'    A cool article I found on a mobile-platform based, portable, minified meter coming to a pocket near you!
Swartz Electric – Your Colorado Springs Electrician performs electrical work throughout Colorado Springs, Monument, Black Forest, Fountain, Falcon, Woodland Park, and everywhere in between. We are the electricians in Colorado Springs to solve your electrical problems and meet your electrical requirements.
Call, e-mail, visit our website, or stop by our office today, and allow Swartz Electric to serve YOU.
This is an original article written by Mai Bjorklund for Swartz Electric. This article may not be copied whole or in part without the express permission of Swartz Electric, LLC.
© Copyright 2015. All rights reserved